Windows Page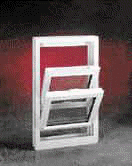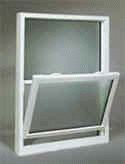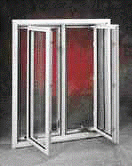 Double Hung Single Hung Casement
Both sashes tilt. Bottom sash tilts. Sash cranks outward.



Slider Bay Window Bow Window
Single sash slides. Groups of three (bay) or 4+ (bow) in any configuration.
Whether it's a misguided baseball, or storm damage, sooner or later most homeowners will have to deal with window replacement, a chore that is not high on any handyman's list of things they want to do with their spare time. No matter the reason for the work, you really need to take a few things into account before heading for the building supply store.
The first consideration is the age of your home. Older houses tend to have windows, consisting of wooden sashes and hardware that is no longer made. If you wish to keep the antique look intact, you might have to search out a supplier of obsolete or out-of-date locks and fastenings to complete your work.
Most modern houses usually have aluminum windows, and though they are not energy efficient, replacement parts may be more accessible if your willing to do some research.
If you're considering window replacement for energy efficiency, it is unlikely you will get exactly the same dimension windows that you have now, unless they are custom made. In that case, it would be wise to seek the advice of experts, NOT YOUR BUILDING SUPPLY STORE, hire a professional to make sure you get the most out of your remodeling dollars.
There are three primary concerns to be dealt with. The first is aesthetic. The second is quality of the window. The third is the contractor's expertise and reliability.
Windows can come in a number of configurations... 100% wood, wood inside and vinyl-clad wood outside, 100% vinyl inside and outside, and of course anodized coated aluminum. If the interior trim in your home is stained, not painted, you may want to consider wood inside / vinyl outside to maintain the appearance of your woodwork. If your interior trim is painted, though, vinyl or aluminum would be the top choices for minimal maintenance.
Aluminum is perhaps the toughest of all the available options and modern aluminum windows do not have the heat-transfer problems that plagued older windows... excessive condensation and even freezing in the winter! They may over time need repainting if the finish deteriorates. This is a strictly aesthetic issue... aluminum does not rot or rust. Vinyl or vinyl-clad are the most maintenance free, never needing anything other than occasional cleaning. Wood, on the other hand, is a maintenance hog needing regular repainting to prevent deterioration and rot!
Comparing quality among manufacturer's is almost impossible. Over the years, even the major manufacturer's have produced some "bad windows". The only rule of thumb that can be given is to never purchase a window that you can't first look at, touch and operate. Have a salesman show you how they work and then try to work them yourself. If they have special features such as "tilt-in" or easy removal, be sure to test this feature, too. Some folks find these mechanisms very difficult to operate
.
You should inquire about the warranty, the availability of replacement parts, how long the manufacturer has been in business and (if you are really motivated) do some Web searching to find out what other people say about their products! With major manufacturers such as Andersen and Pella, parts are available for 20 years or longer.
Concerning the contractor, it is important to do a little investigation unless you have found them from a very strong referral. We have an article on our site about buyer protection... this should get you started and help you avoid the big traps!
Ideally, the installer should have lots of experience with replacement windows. Be very careful, taking a chance with someone who does not specialize in window installation. You can save some money but you must be willing to accept the added risk! Installing replacement windows is not brain surgery, an experienced carpenter can do a fine job if he or she takes the time to do it right.
Our replacement windows are built to enhance your home with natural beauty and durability. Each window is custom-built for a precision fit, in your choice of styles and colors.
Don't take chances with your home. You can trust "Citywide" to install only top quality, competitively priced products. No high pressure sales! At "Citywide" we provide a free no-obligation in-home estimate.
Our windows are custom sized to fit your home.